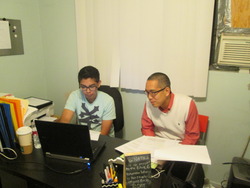 Greetings Friends of JOYA Scholars!

As 2013 draws to a close, we are about halfway through our fifth school year as an organization! Having grown since our initial launch, we now work with junior high, high school, and college students, and also with the parents of these students. We are extremely thankful for the privilege to assist and empower these wonderful students and families from the Garnet Neighborhood in their college pursuits.

A few highlights your support has made possible:

- A team of over 20 dedicated volunteers provides direct mentoring and tutoring for students. Others serve on our advisory, administrative, and grant writing teams. We appreciative the time, energy and belief in our mission that comes from all our volunteers!
- Our two seniors this year, Gerardo and Solomon, have applied and plan to attend four-year universities in Fall 2014.

- Last year's high school graduates are now attending college! Leslie is currently a freshman at UC Riverside and Aidee is attending Fullerton College before transferring to a four-year university.

- Valeria, JOYA's first four-year university student, plans to complete her dual degree in Political Science and Spanish in 3 years this coming spring semester! She is in the process of taking her LSAT exams and applying to law school. Valeria is also giving back to her neighborhood and to JOYA as a leader of the Jr. High program.
- JOYA's inaugural class of junior high students transitioned to the High School Program this year. With earlier intervention we are able to better prepare students for the rigors of high school academics and course selection. In the long run, this allows students the opportunity to further compete with all college-bound high school students in the U.S.

- Grants were a huge help this year. JOYA was awarded funding from Altrusa International of Anaheim, the American Baptist Home Missions Society, the Angels Baseball Foundation, and The Opus Community Foundation totaling $14,000 this year! Organizations are recognizing the important work we are accomplishing in the neighborhood.
-We have begun to actively pursue our long-term plan to hire an Executive Director. The first phase involves securing adequate financial resources to jumpstart this strategy. The executive director would provide essential vision, staff and volunteer development, and day-to-day oversight ensuring that our students receive the best resources and relationships for their college success.

Give A Gift This Holiday:
These highlights would not be possible without your generous support. A vast majority of our funding still comes from friends like you who believe in the importance of education to change the trajectory of a life. With each donation, we are able to mitigate the disparity common between high and low-income students by providing key academic, economic, and social benefits such as tutoring, SAT prep, college tours, and cultural experiences.

To expand and deepen our work in the Garnet Neighborhood we need to raise $80,000 in the coming year to fulfill this vision.

As 2013 draws to a close, would you consider giving a generous year-end gift in support of JOYA Scholars? Or in 2014, becoming a regular monthly donor? We could not continue this work without your partnership.

To donate on-line, please visit our website at joyascholars.org or by sending your donations to:

JOYA Scholars
P.O. Box 1457
Fullerton, CA 92836

Thank you again for joining our students on the journey toward a college education! On behalf of the entire JOYA Scholars organization, thank you again for your involvement and investment. In each student, we see the difference you are making. Wishing you and your family the very warmest of holidays.

Sincerely,

Kevin Doi
Rebecca Hong
Carey Jeu